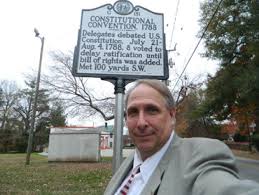 New Hope Improvement Assoc.
4012 Whitifeld Road, Chapel Hill, NC
The President and the Board of the NHIA invite you, your family and friends to a talk by Scott Washington on Wednesday. May 22nd at 7 p.m at the NHIA building.
The title is: From Regulators to Revolution: How Orange County, North Carolina, Changed American History. 
Free and open to all.
Please bring a dessert that can be shared.
Mr. Scott Washington was  Assistant Director of the Orange County Historical Museum in Hillsborough. He is an American historian, scholar. writer, and a lively speaker. Scott is the weekly co-host of "History Matters" on the Aaron Keck Show, broadcast on WCHL FM radio in Chapel Hill and heard throughout the Triangle area and on the Internet.